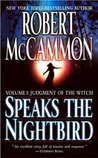 Judgment of The Witch
by
Robert R. McCammon
My rating:
5 of 5 stars
This is - from what I've read - the novel which eventually lead to Robert McCammon's hiatus from publishing, because he wanted to branch out from horror. A guilty admission: that's probably why it's taken me so long to get to his Matthew Corbett series. Would I like Robert McCammon's non-horror?
A foolish question, and I should've trusted what I've come to know about McCammon's work - it's almost always obsessively readable. That, and just as King doesn't get nearly enough credit for being such an insightful, poignant Regionialist as well as a horror writer, McCammon clearly has the chops to write compelling historical fiction which is just as entertaining as his horror/speculative work. The Listener is a perfect example of his melding those genres, as well as the thriller genre.
Admittedly, this started slower because it's not horror, but at some point - I can't remember where - I crossed over a threshold and simply couldn't stop reading, which is my typical McCammon experience. Will definitely get caught up on Matthew Corbett's adventures, so I can read McCammon's newest, CARDINAL BLACK.
View all my reviews